Turn Big Events Into Fabulous Foam Parties With A Foam Bubble Machine
Are you planning for a stress free event or party and looking for a way to kick things up a notch?
Whether you're a professional party planner or an amateur outing organizer, it can be tough to take your shindig up to the next gear.
Undoubtedly, everyone will have a decent enough time at your function as long as there are good eats, stimulating conversations, and groovy tunes.
That said, event planners–whether experienced pros or enthusiastic hobbyists–don't want their events to be just a standard "decent" time. Instead, if you're reading this article, you want this particular occasion to be remarkable.
You want people to remember this particular get-together for the good times, laughs shared, and friendships sparked.
So…how can you take your event from a reasonably pleasant endeavor to a fabulous all-out bash?
Why Go for a Foam Party Fun?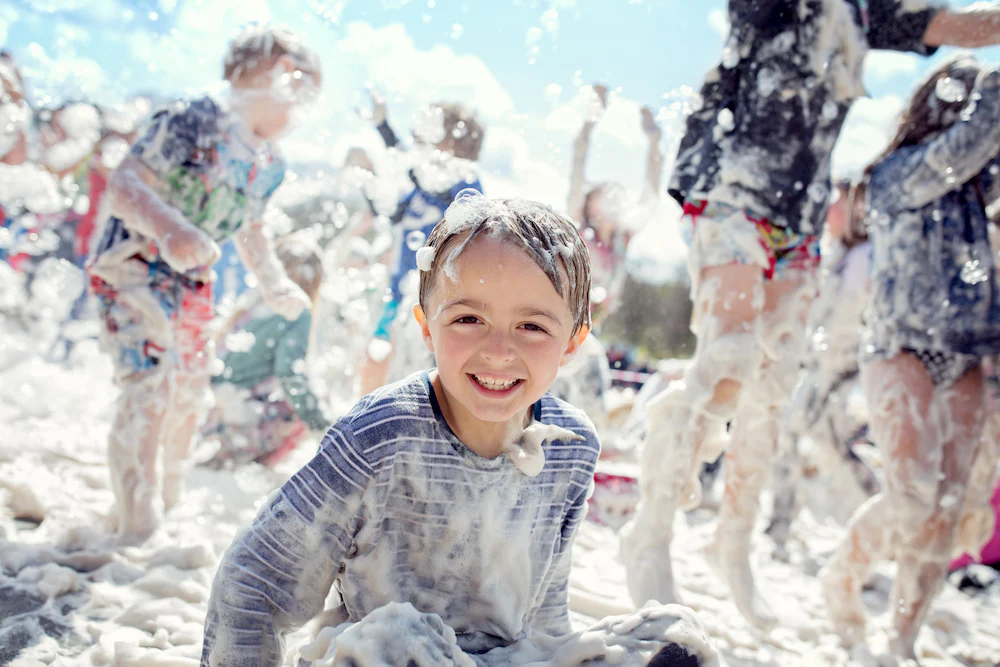 Refreshing foam parties are an increasingly popular phenomenon, and for good reason. Whether you're hosting birthday parties for family and friends or just looking for a fun activity to do on the weekend, having a foam party is an excellent way to get people of all ages in on the action. In this blog post, we'll explore why foam parties are so great and how you can have your own foam party at home or in a venue.
Provides Plenty of Entertainment
One of the main benefits of having a refreshing foam party is that it provides plenty of entertainment value and fun anytime with minimal effort. Such an extraordinary occasion! From toddlers to grown-ups, everyone loves getting in on the fun, especially since there's no need to coordinate activities – they already know what they want to do when they see the foam!
An Inexpensive Way to Party Home
Not only that, but it can be an inexpensive way to liven up an extraordinary occasion as long as you already have the necessary equipment like speakers and lighting.
Versatility In Party Planning
Aside from being entertaining, another great thing about hosting a foam party is its versatility. You can customize them with different colored foams and lights that match any theme or mood; plus there are plenty of music options available to choose from – everything from electronic dance music (EDM) to classic rock tunes – so your guests will definitely have something to jam and fun anytime in between sudsing up.
A Safe Way to Party Home
Having a foam party is also super safe compared to other types of celebrations; because even though there will be lots of soap suds around, thanks to the high concentrations of concentrated soap which act as a buffer between people's skin and clothes, it guarantees extra protection for your family and friends against scrapes or bruises if someone falls down. Plus it makes clean-up easier since all you need is some water and towels!
The Health Benefit is Amazing!
Finally, let's not forget about the health benefits: Foam parties provide plenty of physical exercise by forcing participants to move around more than usual while still being able to enjoy themselves. And unlike traditional workouts where people often dread sweating it out at the gym, foam parties make exercising enjoyable since everyone gets involved – making it ideal for those who want to stay fit without sacrificing their social lives in the process.
Hence, anyone looking for a unique experience should seriously consider having their own foam party soon! Not only will they save money while providing plenty of entertainment value with minimal effort required; they can also guarantee safety precautions along with some healthy physical activity all while having tons of fun!
You Need An Expert Foam Party Planner!
The expert team at Foam Party Supplies suggests first examining our foam machines for sale page to take your event to the next level.
Then, we suggest reading on as we explain why a foam machine offers the necessary jolt to any party or social gathering:
The Foam Machine: An Event-Planning Powerhouse
A foam party machine or a foam cannon is a great way to add some fun and excitement to any event. Whether you're hosting a birthday bash or just want something unique for an indoor activity day, having a foam machine can make all the difference. Just dry and pack up for easy storage! In this blog post, we'll explore why you should consider buying one and how it can help you create the perfect atmosphere.
Value with Minimal Effort
The first benefit of having a foam party machine is that it provides plenty of entertainment value with minimal effort. All you need to do is find the right equipment and you have yourself an instant party; from toddlers to grown-ups, everyone loves getting in on the action! And if you already have speakers and lighting in your venue, then you've got everything necessary for hours of fun at your fingertips.
Scalable Party Foam Machine
Another great thing about having a foam party machine is its versatility. The machines come in different models and styles like traditional floor mats or suspended systems, so depending on the size of your space there will always be something suitable for your needs. Plus, with all the colored lighting options available out there – from classic reds & blues to crazy purples & greens – it gives you plenty of freedom to customize your own unique setup according to any theme or mood.
Provides Safety & Protection
In addition to providing entertainment value, foam parties also come with safety benefits that other forms of celebrations often lack. Thanks to high concentrations of concentrated soap which act as a buffer between people's skin and clothes, they guarantee extra protection against scrapes or bruises if someone falls down during all the sudsing up (which tends to happen!). Plus it makes clean-up easier since all you need is some water and towels! So even though it may seem like a costly investment upfront, over time it could save you money as well as time spent cleaning up after each event.
Tremendous Benefits
There are many benefits to finding and purchasing a suitable party foam machine for sale. Almost any event you're planning will be automatically made more fun with a commercial foam machine.
It's true. An industrial foam machine can make all the difference to any outing, taking your party from ho-hum to oodles of fun.
Think about it–who doesn't love a bubble bath? It's ingrained deep inside us to relish being immersed in fluffy, delicate foam. There's something about the presence of the soft tufts that causes all involved to relax, let loose, and allow the fun to take over.
Below, we'll delve deeper into the details of livening up your event with a foam machine:
Ideas For Foam Machine Commercial Use Are Versatile

This section applies to party-planning professionals looking to spice up their events with a versatile partying tool. Although, a homeowner with a love for hosting can also use these tips to their advantage.
Unlimited Events to Choose From
Here are just some of the events for which people have purchased our foam machines:
●      Block parties
●      Birthday parties
●      Fundraising events
●      Church group outings
●      Back to School BBQs
●      Corporate gatherings
●      University functions
●      Day Camp extravaganzas
●      Sweet 16s
●      Daycare fun days
●      Graduation blowouts
●      Wedding receptions
Good for People of All Ages
We could keep going–but you get the idea. Foam machines are appropriate for people of all ages who gather for almost any reason. Whether a small child with a twinkle in their eye or a full-grown adult who's seen it all, everyone enjoys foam parties.
Universally Loved by All People
Why is foam so universally loved? We believe it's because foam can be many things to many people.
To some, foam reminds them of playtime. Others embrace the luxury of foam parties–the whole experience is like being inside an opulent, plushy cloud. Alternatively, some people might just like how the foam feels on their skin. Honestly, there's no accounting for personal tastes.
Foam Parties Can Be Hosted Indoor And Outdoor

We'll admit that not every social gathering calls for a foam machine. An indoor family brunch probably won't benefit from eggs Benedict with a side of bubbles.
Still, you'd be amazed by how many scenarios can benefit from a foam machine.
Indoors or Outdoors?
When planning an outdoor foam party, the key factor is location. If you have enough space in your backyard, then that's great – but if not then don't worry as there are plenty of other places like nearby parks or beaches that should be considered instead. Just make sure that wherever you choose has enough open space for everyone to enjoy themselves without overcrowding – and also check with local authorities regarding any permits or restrictions on hosting such events if necessary.
Check the Weather
The second factor when throwing an outdoor foam party is weather. You'll need to consider whether it will be sunny or rainy during the time slot chosen and plan accordingly; if the forecast predicts heavy rain then perhaps look into renting tents or pavilions to ensure everyone stays dry while still enjoying all the sudsing up!
Check for Space
If you decide to host your foam party indoors, then again location is important; make sure there's enough room inside either your house or a rented venue for everyone and also do a quick safety check beforehand just in case anything needs fixing before setting up any equipment.
Liven Up the Atmosphere
Additionally, consider adding music speakers and lighting options to give the place some extra atmosphere – plus with all colored foams available today, why not go wild with your decorations too?
No matter which location you choose, though, one thing never changes: Foam parties provide plenty of fitness benefits due to all the movement involved – so even those who don't fancy traditional workouts at gyms can stay fit without sacrificing their social life! Plus they tend to tire people out more than usual due to all the energy required – making them ideal for anyone looking for an unforgettable yet rejuvenating experience all at once!
Don't Forget the Classics
The first thing that comes to mind is a little tykes birthday party during the summer.
Think of a classic scenario–a BBQ, dance floor, bouncy castle, and kids sliding in the foam. You really can't go wrong with this type of party, and it doesn't have to just be for a young one's birthday. As we've already said, foam bubbles are for all ages. A family reunion or yearly neighborhood block party calls for foam bubbles to dial up the fun levels.
Better yet, foam parties aren't limited to the outdoors. It's possible to have an indoor event with foam bubbles adding to a more playful, dreamlike atmosphere that takes the ambiance to exciting new places.
We'll add the disclaimer that indoor foam parties take some extra planning. Here are some steps that you'd need to take if you wish to proceed in this direction:
●      Place the foam machine on tile, linoleum, or another surface that's easy to clean.
●      Ensure valuables are covered with plastic sheeting to avoid staining from the foam. Or, make sure to purchase a non-staining foam solution.
●      Indoor foam parties require music to really bolster the atmosphere. Ensure all electronic equipment is nowhere near the foam juice to prevent a safety hazard.
Modern Foam Solution Contribute To A More Seamless Foam Machine Party Experience

One of the most important things to consider when throwing a foam machine party is safety. As with any event or celebration, it's essential that everyone has a great time while remaining safe at all times. Thankfully, modern foam solutions make this process easy due to high concentrations of concentrated soap which act as a buffer between people's skin and clothes – helping to prevent potential injuries like scrapes or bruises should someone fall down during all the sudsing up.
Another benefit of modern foam solutions is convenience; they make clean-up much easier since all you need is some water and towels after each session – no special products or equipment necessary! This saves both time and money in the long run, especially if you're hosting multiple events throughout the year.
When it comes to versatility, nothing beats having a quality foam machine. Not only do these machines provide entertainment value but they also come with plenty of music options available so your guests will definitely have something to jam out too in between sudsing up. Plus there are lots of colored foams and lights available for added customization according to any theme or mood – giving you plenty of freedom when creating your own unique setup for each event.
Using a foam machine during a party sounds splendid and all. Yet, you'd be wise to have concerns about the cleanup. After all, the fun of any event can be quickly forgotten if tidying the mess takes hours of manual labor.
With the above notion in mind, some foam solutions create more hassle than they are worth.
Namely, we're referring to more DIY solutions that use harsh dish soap as an ingredient. Also, not all commercial foam solution brands use non-staining formulas. Either way, you're dealing with an unwanted mess, whether an abundance of suds or unsightly stains.
Using DIY dish soap foam solution can also cause allergic reactions.
We sell foam solutions made from an organic formulation at Foam Party Supplies. Thus, our foam is non-staining, hypoallergenic, scent-free, neutral PH, and safe for pets and humans. Also, our formula is biodegradable and uses cosmetic-grade ingredients.
As a result, cleanups for commercial and personal use can be entirely seamless with few hiccups along the way. You're doubling the fun, halving the work, and ensuring everyone's comfort because your solution is safe for allergies.
How Much Are Foam Machines?

Foam parties provide an excellent form of physical exercise when compared with traditional workouts at gyms; because everyone gets involved in making sure they get their daily dose of fitness while still having tons of fun! Plus they tend to exhaust people more than usual due to all the movement required – so anyone who wants to stay fit without sacrificing their social life should definitely look into investing in one soon!
Hence, buying a foam party machine might seem expensive upfront but considering all the potential benefits – from hours of entertainment value coupled with safety precautions along with physical exercise – it'll prove itself invaluable over time! So if you're looking for something different yet unforgettable for your next event, then definitely look into purchasing one soon!
Are you seeking the best available foaming machine price? If so, know that costs can vary based on your needs and the type of foam machine you want.
For instance, a used party foam machine for sale will cost less than something new.
Provided you don't want to look for a used foam machine for sale, the price of new models can also vary drastically. Here's an example: the Foam Blaster Pro LE Foam Machine costs $1,279, while the Foam Blaster Pro HD Foam Cannon (Bundle) costs $2,962.
Now, the second choice is a bundle, and the other is just the machine–but these are necessary considerations when making such a purchase.
These prices definitely make sense for commercial use. You're bound to earn a substantial return based on the buzz your new foam machine creates.
As for personal usage, renting, buying used, or hiring a specialist/technician might make more financial sense. Still, you may want to use your foam machine often enough that the investment makes sense for personal use.
Shop With Foam Party Supplies For Your Foam Party Needs?
A name tells you a lot about a company. Our name establishes our expertise loud and clear at Foam Party Supplies–we're all about foam parties. Come to us if you have questions, concerns, or wild and whacky brainstorming ideas about your foam party.
Moreover, as our name suggests, we're your #1 source of foam party supplies. Peruse our foam machines for sale on our web catalog, or contact us if you want to learn more about our products.
---